PLAYER
---
Montville, CT 1999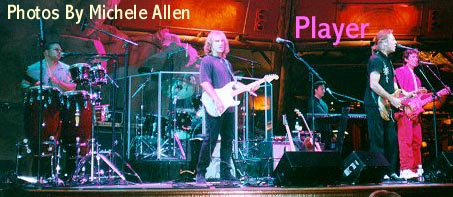 Player had a couple of big hits and a loyal following. Their biggest was "Baby Come Back". Player consists of Ronn Moss (bass guitar, lead and background vocals, and soap opera star hunk from The Bold and the Beautiful), Peter Becket ( www.peterbeckett-player.com , lead vocals, guitar), Dave Amato (lead guitar, background vocals), Ron Wikso (drums), Tony Sciuto (keyboards) and Ron Green (percussion, background vocals). In the latter part of 1999, Dave Amato has joined Player for live performances when the REO schedule permits.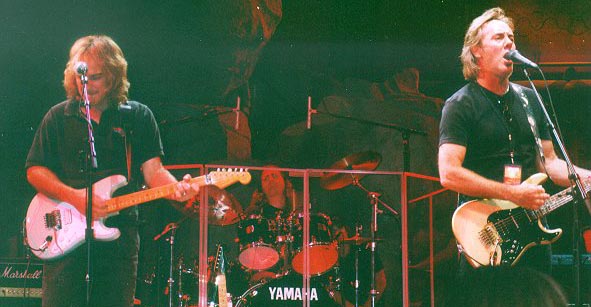 Amato long-time buddy and musical collaborator Ron Wikso on Drums. Ron Wikso and Dave have worked together a lot in their careers. (Cher tours, Majic Ship, Ron was also with Foreigner when Foreigner and REO toured together a couple of years ago, the worked together on the Majic Ship "Soundwaves Project", and now the Player thing.)
Doing a bit of "slide guitar".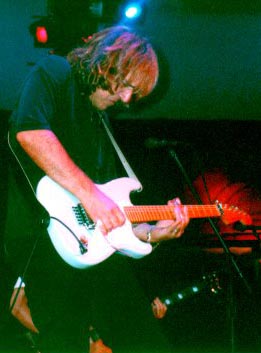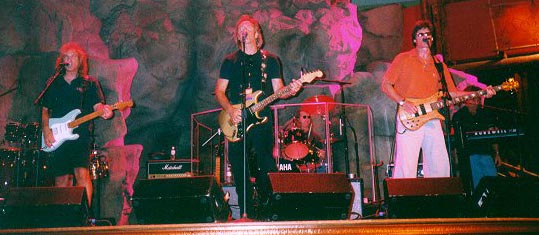 Many thanks to Ron Wikso's friend Michelle Allen for sending these excellent Player photos to the Dave Page.
The photos below are from the 1999 Las Vegas Player show and were taken by the webmaster.
| | |
| --- | --- |
| | After the Player show, Terri (Webmistress) gave lessons to Dave and Tony on the Megabucks slot machines. |
| | |
| Dave with Player, Las Vegas March 31, 2001. The go-go girls are webmistress Terri and Amato fan Anne. "You go girl!" | |
---