Very cool photos and nice story Martha. Seeing that photo of you ... your daughter ... and Dave with the Les Paul Guitar ... I've got to say that this has hit a soft spot in my big rockin' REO heart!
Glad to hear you had a fantastic time.
Yes ... I agree it does not matter if you are 12 or 18; it's the same difference ... especially at the REO show.
Speakin' of 18 and "the same difference" ... I think had Einstein been alive today he would have discovered that REO has a way of increasing your age or decreasing your age depending on which side of 18 you are on. He would have no doubt called it the:
Theory of reolativity.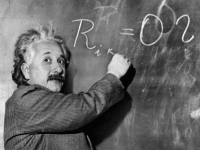 Above is an actual photo of Einstein and as you can see ... he has written the "R" and "O" and has nearly figured out the theory. He just needed to add the "E" in the middle in order to make it REO! He was so close!
Well ... since he is no longer with us ... we REO fans, go to the show, and discover the theory for ourselves. Einstein would have been proud of us ... and no doubt an REO Speedwagon fan if he were with us today.
We proved that, according to the Theory of reolativity, everyone at the end of an REO show feels ...
...18...
... and 18 is a pretty cool age to be ... at the REO Speedwagon show.
Terry Lacny ... Photo Editor of www.daveamato.com