2009 TOUR (Page 2)


PHOTOS AND COOL REO STORIES CAN'T STOP ROCKIN' IN!
I received the two photos above and the photo to the left from Shawn Oliveria. They were taken at the War Memorial Arena in Johnstown, PA on March 25, 2009.

He writes, "The guys definitely rocked the house and let Dave know that I really appreciated his web page.

Thanks for the compliment ... and I'll let Dave know!
Thanks for the Cooool photos toooo Shawn!
Rock On!
I received the photo to the right from Laurie Gramke.

She writes, "Hi Terry, My husband and I went back on the road again to see "the boys" of REO Speedwagon. The concert was at the Belterra Casino in Belterra, IN on March 28, 2009. We have seen them several times and this was one of the best concerts we have seen. The audience just feeds off their energy! Dave is AWESOME! I would like to thank Dave for the picture and let him know it was a night to remember. Good luck with the big tour!! Thank you."

Laurie ... that photo makes my eyes rock out and your story makes my soul yearn for:

R-EEEEEEEEEEEEEEE-OHHHH!!!!



I received the photo to the right and photo below from Diana Sugg.

She writes, "It's me again. You posted some of my pics on Tour 2008 page 8. Hot on the trail of some of my favorite rockers. I'm such a big fan of REO Speedwagon. When they come to the Midwest you can bet, I will be there. I thought I would share some pics of Kevin and Dave playing acoustically at the Tony LaRussa's Arf Foundation Charity concert in St. Louis this past January 2009. I really enjoy watching Dave play the guitar. I also enjoy hanging out with them after the shows, that I get to attend. Looking forward to seeing them in St. Louis in July with Styx & 38 Special. You can bet, I will have more pics for you.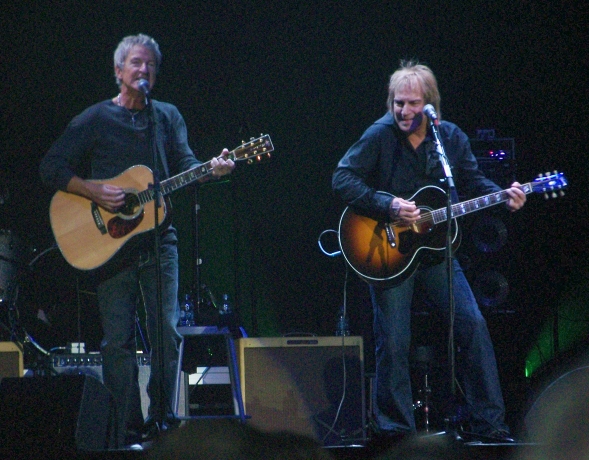 Very neat photos and story Diana!
Thanks! You Rock!
I received the cool photo to the left and the great four photos that follow form reo-rock-a-roller Jeanette Schmitz.

She sent a along a neat story too. She writes:

"Hi Terry...here are some pictures from the April 24th show in Orlando FL. It was such an amazing show....it was a benefit concert for Coalition for the Homeless.....204,000.00 dollars was raised that evening. The guys of REO are so nice and generous. It was so much fun...Dave is a really funny guy!!!!! I bid on lunch with Bruce Hall and WON!!!! Dave teased us about wanting to go to lunch with us and have Bruce pay..you can tell they really all get along like a big family...How fun to be included!

Thanks Terry
| | |
| --- | --- |
| | |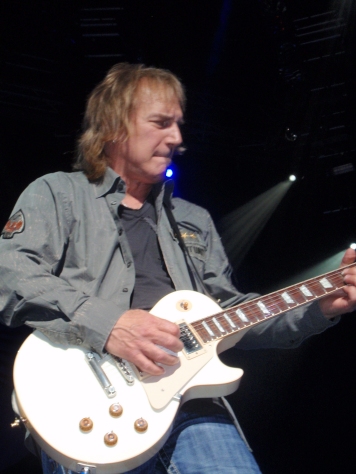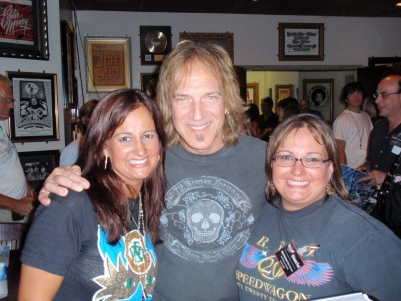 Now there is a rockin' threesome!
Awesome photos and great story Jeanette! Thanks!
Man ... after seeing all those photos and reading those stories I have one thing to say:
I know it's true that we can't stop...can't stop going to see
R-EEEEEE-OHHHHHHHHHHHH!
Take care everybody and ... .....................................
See you down front with Dave at the next REO show!
Terry Lacny ... Photo Editor ... www.daveamato.com!