Amy Lawrence sent in the photo below from the Verizon Wireless Ampitheatre/KZLA Country Bash in Irvine, CA on October 14, 2006.
She writes:
"I had a great time at the concert Saturday night. REO rocked the house! Here is a photo from my front row view!
Funny note: When Dave threw us some guitar picks, one fell in my friend's beer, and she drank it down (not on purpose, of course). It's not really that funny, since it hurt like he@# going down, but I'd pay good money to see those x-rays!..."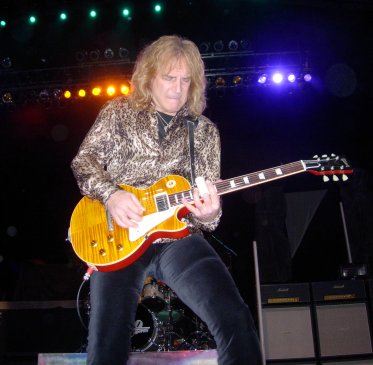 What a story ! What a photo too! Thanks for sharing it. We at daveamato.com hope that everthing came out OK with your friend. If not, one bit of advice ... tell her to keep pushin. And hold onto that friend too Amy ... she is a good one ... I've heard of "fans eating and sleeping REO" ... but to actually drink a part of REO ... that's a special breed ... that's hard core. I mean, little did Dave know that the pick he was holding would soon be winding it's way through the core ... of a hard core fan! Amy, the standards of what it takes to be hard core fan ... have just been raised and we at daveamato.com are proud to be apart of it.
Well ... I guess now is as good a time as any to learn about the guitar picks Dave uses. Some guitarists use heavy picks which are thicker than "thin" picks. "Heavy picks" are harder to bend than thin picks. Naturally then, heavy picks would go down harder than thin picks if one consumed one with a liquid beverage ... like your hard core friend. Good news for your friend is that Dave uses thin picks ... and it would flow down better than a thicker pick. Tell her that. She'll appreciate that more than most .... hard core fans.
THANKS FOR LETTING US HAVE A LITTLE FUN WITH THAT STORY AMY ... I'D SAY THE BOTTOM LINE OF THIS EPISODE IS THAT THIS PROVES THAT YOU AND YOUR FRIEND ROCK TO
THE CORE!