TOUR 2006 (Page 9)
"SHOW PICS, DAVE WITH FAN PICS, AND DAVE GUITAR SIGHTINGS"
Phil Watson sent in some rockin' shots below from the Panama City Beach Marina Civic Center show on September 21, 2006.
Phil had a Spinal Tap blooper moment as he explains in his email, "I laid my camera down on the stage in front of me in between shots. I went up real fast with my hand to clap and accidentally knocked it. It went rolling/sliding across the stage up near Dave. He was nice enough to bring it back."
Dave must have sensed that you knew what you were doing with that camera and knew to get it back in your hands as soon as possible, because those are some great shots! Thanks for sending them in and sharing your story. Phil ended his email to us with one more phrase:
"Awesome concert!"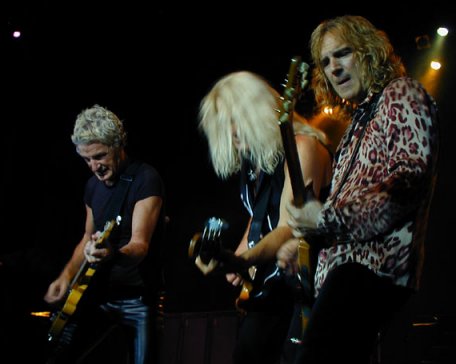 | | |
| --- | --- |
| | |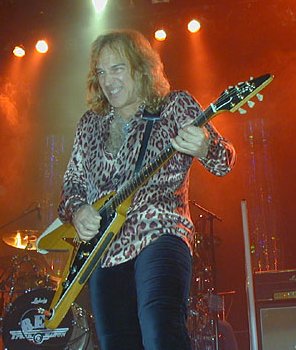 Dave Emanuel sent in some REOWSOME photos below from the "Corvette Funfest" in Effingham, Il on September 16, 2006.
His email read ".. if you're talking with Dave, let him know that everyone I spoke with really enjoyed the show-- especially his guitar work."
Dave E. ... we told him. You rock. Thanks for all your hard work and support!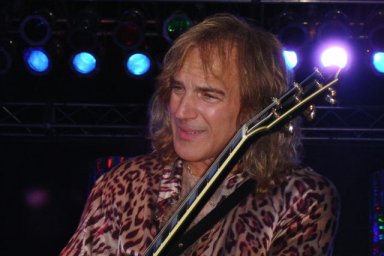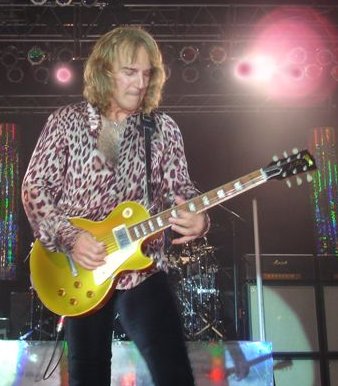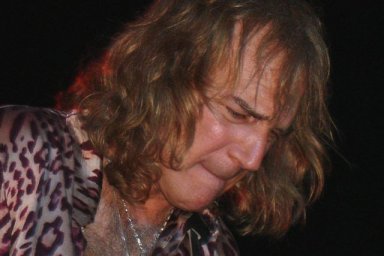 Here is a nice photo of Liz & Kevin McTaggart with Dave from the San Mateo, California Fairgrounds show on Thursday, August 17, 2006.
They wrote, "The show was excellent, and we had a great time."
Oh yea ... they said one more thing in closing ...
"ROCK ON!"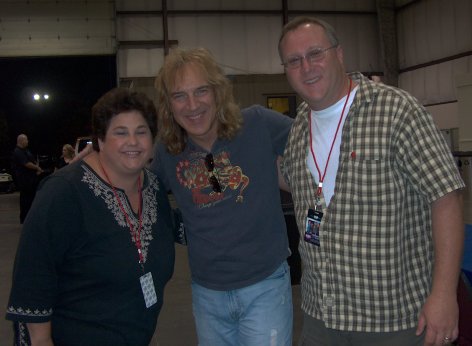 Below is a special Daughter, Dad, Dave pic that gives new meaning to the phrase ........................................ "3D Photo."
Bob Gillette sends us this nice photo of he and daughter Kelsie from the "Corvette Funfest" show in Effingham, Il. on September 16, 2006
Bob wrote us, "Dave is a super nice guy and it was awesome meeting him in person.." Likewise! Thanks Bob for your support. YOU THE DAD.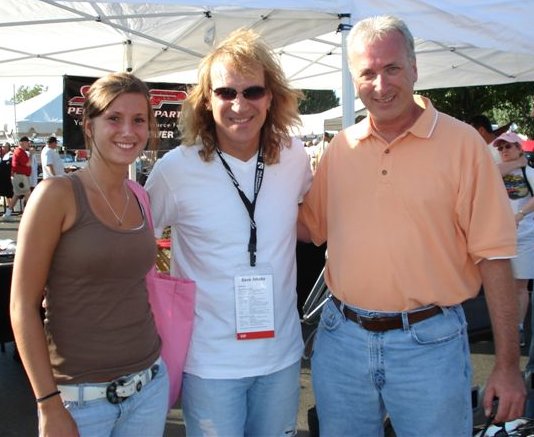 Vicki Meeks & Shelly Hall sent in the photo below with Dave from the Panama City Beach show on September 21, 2006.
They wrote, "I hope you will post this on his site."
OK ... so it's not obvious to Vicki and Shelly that this photo should be posted. I guess it's hard to tell sometimes if a photo is worthy of greatness when you/yourself are the subject matter.
We'll let me tell you Vicki and Shelly ... this is not a "hope you will post" photo. This definitely falls into the category of "obviously you will post this photo."
I looked at this photo and thought, "It's obvious these three people know how to rock ... it's obvious it's after a show and these three people just rocked out ... it's obvious these three people will keep on rockin' ... because it's obvious these three people ... can't stop ... can't stop rockin!"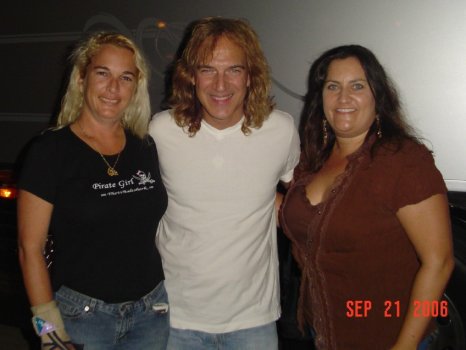 DAVE GUITAR SIGHTING!
Adrian Marchisio spotted one of Dave's guitars at the Seminole Hard Rock Casino in Ft. Lauderdale, Florida. He took a pic and submitted it on August 30, 2006. See below.
He reported that they enclosed Dave's guitar in glass and made it into a coffee table.
Adrian didn't report this but I heard that this "Paul Reed Smith" guitar has so much "sustain" playing power that if you put your hands on the table ... you can feel the table vibrate and if you put your ear to the table ... you can hear past played licks of "157 Riverside Avenue." Still others have told me that if you put your coffee on the table ... it never goes cold.
So everybody ... if you are in the area ... check out its' mysterious powers ... and report back to our base at www.daveamato.com
Thanks for the submission Adrian! Keep rockin!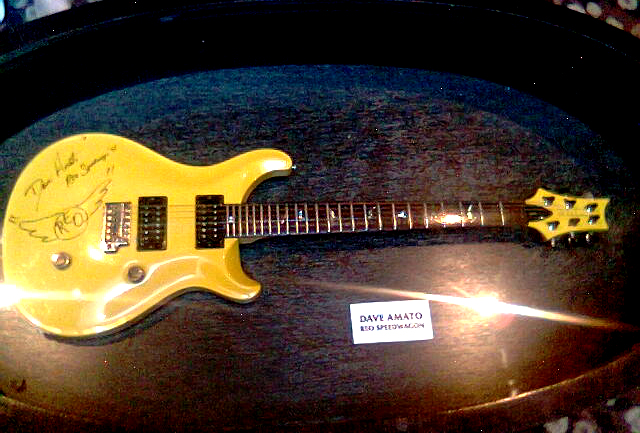 Dave Fans ... you guys rock ... take care ... T.L. Photo Editor, www.daveamato.com