Arlington, Texas Guitar Show
21 & 22 October 2000

Good friends, I'm here to tell you, that I have had a peek through the golden gates of heaven. This past weekend (Oct 21 & 22) I had the pleasure of going to the Arlington, TX Guitar Show near Dallas with Dave Amato. I had a business trip to Richardson for my day-job and just extended my stay by a couple of days to attend the guitar show. Dave and Patricia went to Boston to see family the previous week, and Dave made the guitar show stop on his way back. Patricia traveled on her own to take care of other family matters, and did not accompany Dave to the show. They stay in frequent contact via cell phones. I gotta respect the way they support each other in their adventures. They have a great relationship.
You may be wondering, just what the heck a Guitar Show is, so let me take a minute to explain that. The organizer rents out booths to owners of guitar stores from all over the country. There are a lot of booths about 10 ft by 10 ft filled with all kinds of guitars from the worst broken up junk, to the most expensive rare guitars in existence. Some of the larger dealers like Dave's Guitars of LaCross ,Wisconsin had trucked in over 300 guitars and had almost a whole double isle to themselves. They by far had the most impressive selection. Individuals pay $10 to get in, and are encouraged to bring their own instruments to sell to other individuals, or to the shop owners like Norm's Rare Guitars from Tarzana, CA. Norm didn't bring any guitars to sell, but was there with a booth just to buy. Both Norm, and Dave of Dave's Guitars are good friends of Dave Amato's and we spent a lot of time with both.
Earlier in the week, Dave had checked in with me to tell me of his travel plans. During one call, I was at a great used bookstore in Richardson, TX. I thought I had found some books about the Beatles, which he would enjoy. While he was on the line, I told him about a title and he said, "Got it", then another title, "Got it" Well how about-?"Got it". He said he has about 70 books on the Beatles, so I think we can forget finding one he doesn't have. I did find an out-of-print book on Hofner brand guitars. The Hofner Company is famous for the violin shaped bass guitar, which Sir Paul McCartney played through most of the Beatles years. They also made a lot of other guitars, but they are not nearly as famous, and actually aren't all that good. But, I have had a few Hofners, and one was my first guitar. So I was excited about the book. I bought two as I thought Dave might not have this rare book. Turns out I was right!
There are two hotels right by the Arlington Convention Center, which held the show. The Wyndham and the Marriott Court Yard. The Wyndham was the recommended hotel as it is nearly connected to the convention center. The Marriott is only about a half mile away, which would have been fine if it had not been raining off and on all weekend. I had reservations at the Wyndham for Friday and Saturday nights. Dave had planned to fly in very early on Saturday, so he had hotel reservations for just Saturday night. After more thought, Dave decided to fly in Friday evening. Unfortunately he could not get a room at the Wyndham for Friday night, so he changed his reservation over to the Marriott. The Marriott would have been more expensive for me, as I had the early reservation rate at the Wyndham, so I stayed where I was.
On Friday afternoon, I moved from my hotel in Richardson, TX to the Wyndham in Arlington. This eighteen-mile drive took well over two hours because of ridiculous traffic. But I finally got to the hotel, got a shower and got back into the car to go pick up Dave at the airport. He had been keeping me posted on his flight status via our cell phones so there was no guessing going on. Dave's flight was a couple of hours late (no guessing, I knew it was going to be late), but all went well getting him to his hotel. We planed to meet at his hotel for breakfast at 9:30 when I dropped him off at about midnight.
As planned, I drove over to his hotel Saturday morning. We had a light breakfast at their buffet. Dave is always generous to offer to pick up the check, so we have this debate over who is buying at every meal. I let him win this one, but stayed firm on others. Dave is very generous, and I try not to take advantage of that. He too is conscious of not taking advantage of others. Then we drove back over to my hotel and went to the guitar show.
When we got out of the car, I went to the trunk and pulled out a huge soft suitcase which contained the Top Secret Project "DaveAmato.com" tee shirts. Dave said "You're not going to take THAT in there!" I said yes I was, and don't ask what is in it. Of course his immediate reply was "What is in it!", "I said, DON'T ask." "Okay, but I don't think you should take that in there."
My heart was pounding as I entered the huge hall filled with seemingly endless guitars. This huge hall was only about ¾ of the show. There was another large room with the overflow dealers. I'm estimating that based on Dave's Guitars Store saying they brought 300 guitars, and the amount of space they occupied, I'll guess there were about 7000 guitars there for sale. That doesn't include the guitars that individuals were walking around with, trying to sell.
Dave and I walked each isle, exchanging comments on every guitar that caught our attention. Progress through the hall was slow because we couldn't get ten feet without running into a friend of Dave's. (There were not a lot of fan type people there, these were all guitar dealers, and guitar nuts like us.) Some of these people might not have seen Dave in years, but recalled specifics of their guitar deals. These guys are incredible.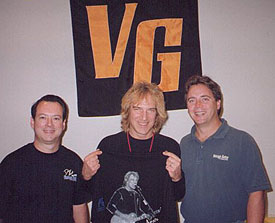 I was eager to find the Vintage Guitar Magazine Booth. The owners of this great publication is a good friend of Dave's. I had contacted them about sponsoring the Amato Tee-shirts. After pressing Dave for us to go straight to the VG booth, we found Alan Greenwood (owner) and surprised Dave with the shirts. Dave was shocked. He didn't know what to say. He just stared at them and said, "What is THAT?" "Hey, that is my signature over the VG logo". Then I showed him the back photo. He was still in shock. I was starting to think I had really screwed up here, and that he didn't like the idea. Dave is conservative, and may have even been embarrassed. Later he assured me he was just so surprised that he didn't know how to react. I had brought enough tee shirts to give the great VG sponsor a dozen, and a dozen for Dave to give to his contacts and friends. We actually gave out a few more than that, and I think everybody enjoyed them. I know Dave enjoyed saying "Hey Ken, can we give this guy a shirt?" "Sure Dave, no problem". These were made as a fun project, not a moneymaker and it will stay that way. These will be great Christmas presents for Amato fans. I hope Dave gets to see a few of these being worn at the upcoming shows. Dave went home with just two shirts for Patricia. A little side note here is that Dave did sign one shirt for a fellow. I tell you it was not easy. I'd compare it to signing a medium-rare steak. The shirt just stuck to the sharpie and tried to drag along with the movement. Signing the shirts is not going to be his favorite thing to do.
After a couple of hours of talking to old friends and acquaintances of Dave's, we began to move around the room more freely, with just nods of greeting to most folks as we would see them again and again.
You probably know, Dave is an endorsee of both Gibson and Fender guitars. Guitar manufacturers are not a usual part of guitar shows. They go to the NAMM shows to present their products to the dealers, and the NAMM shows are closed to the public. The Fender Company was not at Arlington, but Gibson guitars had a classy and spotless clean 18-wheeler trailer at the show. Inside the trailer were some of their finest Custom Shop guitars. We spent most of our idle time chatting with the Gibson factory reps and they were wonderful hosts. Edwin Wilson runs the Custom Shop Historic Division of instruments (Dave's Favorite Gibson guitars) was there, as was Thom Fowle (Director of Custom Shop Sales), and Steve Christmas, also from the Custom Shop. Sam Catalona had come from the Montana Acoustic Division of Gibson. All of these fellows were quite friendly, and made us feel at home in their display. We talked about Gibson guitars, past, present, and future, and about artists who have used Gibson guitars, (like John Lennon, Chet Atkins, and endless others). All of the Gibson guys got Amato Tee shirts from Dave, and Gibson gave us some goodies too. Mike Voltz is Dave's Atrist Relations rep from Gibson. After all the effort he put into the show, we were sorry he wasn't there to see it.

It was quite an experience to see how these good people from Gibson related to the general public. They were warm and friendly to everyone, whether that person was a big dollar rock star, or a kid off the street who wanted information on his Epiphone guitar. One fellow wanted to know how much his pawn shop Peavey guitar (which he thought had to be a Gibson) was worth, but we referred him to the Blue Book of Guitar Values booth for that one. Still, it was done with a smile and respect. These people could not have represented Gibson Guitars any better.
The six o'clock closing time came fast. Lunch had been a hot dog at the concession stand, so Dave and I decided to go straight to supper. After bouncing around a few ideas, we stopped at the Chile's restaurant that was close by. Dave ate light, having just a salad and cheese-broccoli soup. I felt like a pig having a large plate of steak fajitas. I did get Dave to help me out with them just a bit. After dinner, Dave came over to my hotel room to go over a new addition to the web site.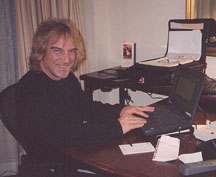 This will be details of his stage rig, I hope to have it added this week. After getting his rig down on paper, we surfed the Dave page a bit, showing him the latest additions. The baseball game was on TV. Dave was interested in that, so we also watched it for a while. We were both pretty tired, so I chauffeured him back to his hotel, and agreed on meeting again at 9:30 for breakfast at his hotel.
I was a bit ahead of schedule the next morning, and found myself at his hotel at 9:15. I went on into the restaurant, which is connected to the lobby. I had coffee while I waited for Dave. I had gotten a table where I'd be sure to see him come up to the entryway. At 9:30, there was no sign of Dave, but not wanting to bother him; I patiently waited. At about 9:45 my cell phone rang, it was Dave asking if I was okay. I said "Sure, why? and Are you coming to breakfast?" He said, "I'm here waiting on YOU!" "Huh? Where?". He had been waiting for me in the lobby just about 20 feet from me. But my back had been to him so I couldn't see him, nor could he see me. He said he hated to bother me with a phone call but thought I might have overslept. For our not wanting to bother the other, we were waiting in different spots. Aren't cell phones great? This could have gone on for hours!
After breakfast we cruised back over to the guitar show and hit the isles again. The dealers had been buying stuff from the public, so there were a few items we hadn't seen the previous day. Sunday was not nearly as crowded as Saturday had been. It was nice strolling through guitar heaven. Dave had a couple of guitars in mind, but one had evidently been sold. With his relationships to Gibson and Fender guitars, I really think he is better off buying new guitars directly from the company anyway.
Dave had been wrestling with himself over should he buy a Gibson John Lennon Edition model 160E electric/acoustic guitar. (Limited run of 250 guitars) He couldn't decide if it was a good investment or not. Finally I guess he accepted that good investment or not, if it made him happy, he should have it. He closed the deal on Sunday morning with Dave of Dave's Guitars. The guitar will be shipped to him in California.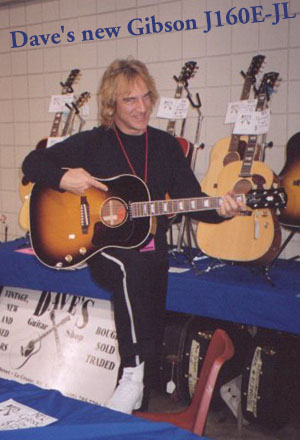 Dave also had been talking to the Gibson people about having a Historic 1958 Reissue Les Paul made in black. This is not the usual finish for this issue so it will be a "one-off" guitar. I think they pretty well closed that deal while we were there, but I didn't hear any completion date mentioned.
My return flight was at 4:00, so with rental car to turn in, and rain-wet streets I decided I should leave the show at about 2:00. Dave had been ragging on me for leaving before the show was over, but then decided that he'd go to the airport with me and try to catch an early flight too. Dave usually flies standby, so it is best if he has a few options on flights, or he could find himself looking for a hotel room again. I told Dave I had to leave no later than 2:30. We again hit the concession stand for a hot dog and drink. (Dave drinks bottled water instead of a soda.) I knew it would be hard to get him out of the show on time, so at about 20 after I announced that we better start saying our good-byes.
Off we headed for the airport. I had to turn in the rental car first. Had we more time, I would have dropped Dave off at his departure gate, but I was cutting it close. So we went straight to the rental car return place. When I turned off the ignition, I realized I had forgotten to fill up the gas tank. This is a big no no. I told the young guy checking in the car that I had screwed up. And jokingly he said that would cost me big time. I said, "Well, how about I give you a tee shirt". He said, "What kind?" "One of HIS!" and pointed at Dave. He said "What, he's going to take his shirt off?" "No no no, here, look at this. See? He is on the back!" "Cool, he said, I'll fill the car up for you." I tossed him a shirt, and off we went to get on the terminal buss. The tank had quite a few miles on it, and you know they charge like $3 a gallon at the return place! You can imagine how much that shirt saved me. Dave got a big kick out of that trade.
Dave and I parted ways when we got on our busses to go to different airline terminals. I made my flight with a couple of minutes to spare, but ended up spending over two hours on the plane before the stormy weather would allow us to take off.
Over the weekend, in the face of mounting temptation, I managed to control myself and not buy any guitars at the show. In fact, the only thing I bought there is a show tee shirt. I did get a couple of nice books about Fender guitars, which Dave insisted on buying for me. These books aren't cheap, and I greatly appreciate his generosity.
I survived the endless gauntlet of seductive guitars, arriving home with my wallet and credit cards intact. Dave didn't do too bad. He has the Gibson John Lennon guitar on the way to him, and the new Gibson Historic Les Paul will be coming too. We had a great time, one I'll always remember, thanks to Dave, and the great team from Gibson Guitars.