"Thanx For The Memories" by Greg Medina
Dave may or may not remember me but I (like many others) could never forget him!
Back in 1971, I was attending a school named Lincoln Jr. High and we had a class dance. Being in the sixth grade and never having been to a dance, let alone a concert, this was an exciting time for me. The band that played was One Way Out. There were only four members, Dave, Bruce, Steve, and for the life of me I can't remember the drummer's name. That show totally blew me away!!! The most memorable moment of the show was when Dave put the guitar down and played the Congas!!!
I never saw him again until ICE. Yet another school dance was the scene. It was 1973 at Keefe Tech in the gym. I was the class Pres. and someone mentioned that they knew of a great band to play at the dance. That night I walked into the gym to the sound of "I've seen all good people" being played. I thought it was a tape of YES. NOT!!!! It was the boyz kickin out this stuff like they had originally wrote it!!!! Not until my senior year did I get the chance to see the band again and yes, it was at another school dance. They played at Dave's high school, (Framingham South) in the cafeteria. They totally blew everyone way who had the privilege to be there.
Dave, Steve, Tim and Tom became local heroes/legends! Anything they played was done to perfection. If you closed your eyes, you could hardly tell, if at all, that it was not the original recording. I shit you not! ANYONE who had seen them in those days will tell you....they were THE BEST cover band in the entire Northeast. Bar none!
Dave played the axe like no other! I remember him being able to play so fast that you could barely see his fingers move but you knew they were 'cause he was right in front of you wailing away!!!!
I eventually joined ICE as a crew member after Dave left and joined Jimmy D to form August. The local music scene in the burbs back then was high energy plus!! There were bands such as Pretty Poison, PF and the Flyers, and Ice (to name a few), who where all in competition, but friendly to each other, especially Dave. He was respected and well liked by everyone.
Dave will be sure to remember Zaff. Zaff and I played in an original band together with Tommy Brodeur called The New Rite back in 1982-83. Prior to that, a good friend named Scott Hanley and I jammed with Dave in the garage studio at Zaff's house. We played "Last train to Clarksville" till I couldn't play any more!! I was on drums, Scotty was on guitar and Dave played Zaff's bass. Scotty and I were thrilled at the time and I get thrilled all over again whenever I think of it. Thanx Dave! Scotty, BTW, eventually took over the guitarist spot in August after Dave left for the West Coast.
Funny how Dave stated that he wanted to wait until he was forty to get hitched! Dave, you might remember the day Scotty got married and we were getting ready to go into the Glenn Ellen Country Club for the reception. I was with my then girlfriend and you were with yours. I'd asked you, "So, when are you gonna get married"? You laughed and said, Oh, I don't know…..when are you gonna"? I said, "I think I'll wait", to which you replied, "Good idea"!
Over the years, I'd be told when Dave was going to be on a show and who he'd be recording with by a mutual friend, Rick "Ricky G" Gallagher. So I'd make sure I watched/listened and felt very proud for him and his accomplishments. If you had the distinct pleasure of meeting/knowing Dave, you knew that he'd make it big in the biz.
Congrats Dave!
You da man!
While going to shows and eventually working them, I'd taken quite a few pics. I've got some great shots of Dave. I hope you enjoy them.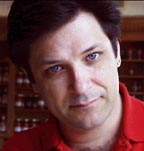 Greg "Funky" Medina
| | |
| --- | --- |
| | Here is a shot of Dave and Tommy playing a gig at Timothy's Too. |
| Here, Dave and Timmy Leavitt play a dual lead. These guys were incredible together! | |
| | This is a shot of the band performing their opening number at Timothy's Too. There would be a line of people 30 yards long and four wide waiting to see the gig! They'd play every night form Tuesday thru Saturday and some folks would stand outside in all kinds of weather straight thru the second set just to get in! |
| He honored me with a pose and a finger stretching cord. | |
| | This must be a trade mark look. |
| This shot shows the crowd gathering in back of the PA to get a view. It was always Standing Room Only! | |
| | Ironically, Dave is seen here playing, "Cat Scratch Fever". Ever wear a boa on stage with Ted? |
......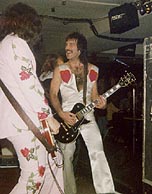 .......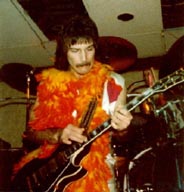 .......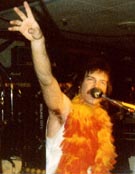 Dave was always willing to accommodate a photographer. (Photo far right) Here he says "good night" to the crowd the last time he'd play with ICE at the Too. I was at the, very emotional, last gig he did with ICE at the Cinema Lounge in Leominster. It was one of the very best gigs they ever did, playing to requests of a huge amount of material they'd performed over the years. I'd worked for ICE as the Lighting Director with two other combinations of the group including one with Leo Vachon and Peter Fowler. The other included, Johnny Barnes and Ricky Larrimore. Both great bands on their own but just not the same.
Thanx for the memories Dave!
Greg Medina
This webmaster would like to thank Greg for digging out these exclusive photos, writing the article, and shareing it all with us.