Dave's Guitars, Amps & Gear
---
Update 03/30/07 A complete inventory of Dave's guitars is now posted. Click on: SEE ALL 90+ GUITARS! Warning: There are 90+ large photos on this section, High Speed Internet Connection is required. Please come back and read the info below. Several guitars have come and gone sence this was posted. It has been problematic to keep it up to date.
---
Click here to see a diagram of Dave's Stage Gear connections.
It is a large image and may take a while to download.
---
No doubt, Dave is a guitar-a-holic, he has told me he has about 50 (see update above), but he trades, buys and sells constantly. It's hard to tell if he prefers a Gibson Les Paul, or a Fender Relic Stratocaster. I won't even try to start that debate here. Dave is fortunate to officially endorse both Fender and Gibson guitars.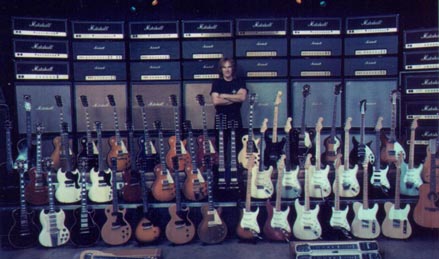 Guitar heaven! Photo taken in May 1999. Photo by professional photographer Rick Gould. It took Dave and Brian (guitar tech) seven hours to dig all of Dave's equipment out, and get it set up for this shot. The front row is certainly worthy of identification. From left to right, the row closest to the camera starting with the Gibsons are: 1. 1976 reissue LP Black Beauty 2. 1968 LP SG Custom 3. 1959 LP Black Beauty 4. 1957 LP TV Special 5. 1956 Les Paul Junior 6. 1954 Les Paul Junior TV 7. 1952 First Year Issue Les Paul Gold Top. Continuing across with the Fender Stratocasters are 8. 1954 First Year issue for the Stratocaster 9. 1955 Stratocaster 10. 1958 Strat 11. another 1958 Strat 12. 1957 Esquire 13. 1956 Esquire. Many of the other guitars are vintage pieces, also worthy of note are the Martin acoustics and the Rickenbackers including the John Lennon model sitting in the back row beside the 1967 Hofner Paul McCartney Beatle Bass. Photo proudly furnished by Dave Amato.
I asked Dave what guitars he is buying now, and he said the Gibson Historic Series Les Pauls, and the Fender Custom Shop "Relic" Stratocasters. The Fender Relics are new guitars which are artificially aged to make them look like guitars from the 50s or 60s.
Dave's favorite music store is:
Norm's Rare Guitars
18969 Ventura Blvd
Tarzana, CA 91356
818-344-8300
To visit Norm's website click on Norman's Rare Guitars
There is a new picture and history book about guitars, titled "Norman's Rare Guitars". Dave is mentioned in the book. You can buy the book from Norm's of course.
Norm's Rare Guitars is listed in the credits of the cult-classic movie "Here is Spinal Tap" as the source of the fantastic guitars used on the movie. Hey Norm, have you got any more of those Marshall heads which go to ELEVEN?
On Dave's stage guitars he often replaces the humbucker pickup with the Seymour Duncan model 59. The single coil pickups are the Seymour Duncan "Antiquity" pickups. You can get more information on these pickups by visiting Seymour Duncan.com.
| | |
| --- | --- |
| | Dave once was a big endorser of Jackson brand guitars. The Jackson Custom Shop made some fantastic guitars for Dave. He used a Soloist in the Cher Extravaganza Tour, and on stage in his early years with REO. The white double neck Jackson can be see on a stand in the background of the REO Video Anthology "Live It Up". This photo taken by Dave's wife, shows Dave and his Jackson collection, inside his storage unit. It is from the 1994-95 Jackson Guitars Catalog. Not long after this, Jackson and Dave went separate directions. Dave no longer owns any Jackson guitars. Many thanks to Kevin at Jackson for sending his personal copy to the Dave Page. (Update, Jackson guitar company has been purchased by Fender Guitar company.) |
Dave is holding the Jackson USA Soloist which he played on the Cher Live at the Mirage concert video. The guitar appears to be black, but it is metallic Black Cherry. (This guitar now proudly owned by this webmaster) Photo used with kind permission of Rob Lane.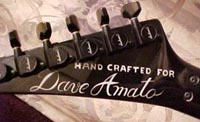 The back of the headstock of Dave's Jackson triple humbucker Randy Rhodes guitar was personalized by Jackson's Custom Shop.
Dave has been an endorser of Dean Markley Guitar Strings for 15 years! He specifically uses the Signature Series NickelSteel Electric LT 9-42 stock #2502B. Those guys at Dean Markley are "First Class".

---
September 2003 Dave attended the auction of George Harrison's Fender Rosewood Telecaster. He didn't buy it, but was honored to be permitted to touch it! Dave does own a very limited edition reissue of this guitar.